Welcome to the Mayberry Motor Inn®
Mount Airy, North Carolina
Mayberry Associates®
Mayberry Motor Inn is nestled on about 10 acres of land featuring beautiful grounds and located at the foot of the Blue Ridge Mountains. We are only 30 minutes from Winston Salem, 15 minutes from Pilot Mountain State Park. Our Motel is located on Highway 52, The Andy Griffith Parkway, and is the nearest route to Myrtle Beach.
You will feel right at home here when you visit Mayberry Motor Inn out front there will be the Mayberry Squad car, Emmett's pickup truck and a Gazebo. Guests can walk along Thelma Lou's trail and enjoy the flowers and pool when in season. Our 27 rooms are tastefully decorated.
When you enter the office you will see Andy Griffith and Donna Fargo Memorabilia . We have a Aunt Bee's room for you to enjoy. It is decorated with memorabilia from Aunt Bee's (Frances Bavier) estate. Gifts are on sale in the office and here online! (books, t-shirts, cups, bells, mugs, and more)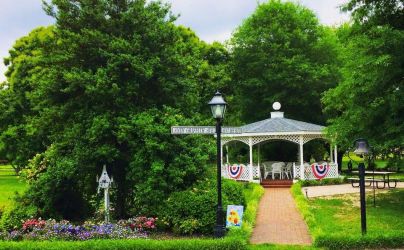 We are members of AAA, and offer Senior Citizen Discounts.
Fax for your convenience and business services.
Mount Airy is the Birthplace of Andy Griffith and Donna Fargo. Mayberry Days is the last week-end in September. The second week-end in October we have the nationally known Autumn Leaves Festival. The worlds largest open face Granite Quarry is also located here in Mount Airy.
Mayberry Motor Inn is a member of the Mount Airy Chamber of Commerce, the North Carolina Hotel and Motel Association, and American Auto Association.
Like us on Facebook