The Aunt Bee Room
Mayberry Motor Inn owner Alma Venable began her "Aunt Bee" collection after attending Bavier's estate sale in Raleigh on June 1, 1990. A vanity was the first piece of furniture that was auctioned off, and Alma successfully bid on it.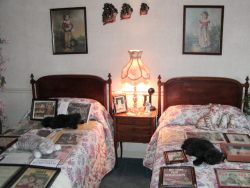 "I was photographed leaving the sale with the vanity under my arm," Alma said. "A reporter asked me what I was going to do with it, and I told him I was going to start an 'Aunt Bee Room.'" It took a couple of years for Alma to organize her extensive collection. She had always been a fan and of The Andy Griffith Show with an emphasis on Griffith memorabilia. As a hairdresser, Alma used to fix Geneva Griffith's hair. Geneva was Andy's mother.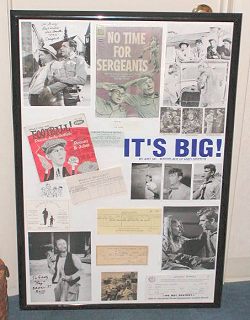 The room holds a twin bedroom suit, which was a personal possession of Bavier. Alma holds a certificate of authenticity for more than 30 of Bavier's belongings, such as gloves, eyeglasses, a handkerchief, a dress, a hat, a shoe kit, an attaché case and sewing materials.
Alma has bought all of the items in her collection except for an ashtray that was made for George Lindsey or "Goober." A great photo opportunity at the Mayberry Motor Inn is having a picture taken in front of the Mayberry Squad Car or Emmett's Truck.
Alma also has other connections to the famous actress. She dresses up like a look-alike during the annual Mayberry Days celebration, which is held in Mount Airy. Alma's middle name is "Francis," and the two women's birthdays fall close together. Alma's is Dec. 12, while Bavier's was Dec. 14.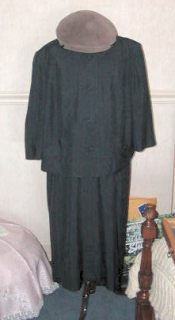 Alma and her husband, L.P. Venable, like for visitors to enjoy a window's view of the "Aunt Bee Room." So if you're in the neighborhood, stop by and see them. Like their brochure says: "You will be made to feel right at home, with care just like Aunt Bee would have give you. Join us where the values and charms of Mayberry still live."